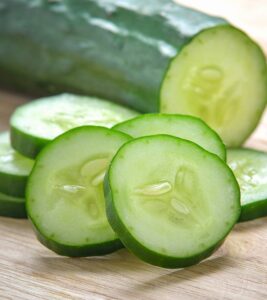 Health Benefit Of Cucumbers, see full detail below.
It promotes hydration: Cucumber is a vegetable that helps to keep the body hydrated due to the amount of water contained in it. Cucumbers are known to have 95 percent water and this makes cucumbers one of the vegetables that keep one hydrated especially the summer period. Cucumber contains essential nutrient that contributes to hydration like potassium and magnesium. Therefore consuming cucumber regularly keeps you hydrated.
  2. Cucumbers Reduces the ancer: Cucumbers  contains antioxidants called lignin, polyphenolic compounds that protect the body from cardiovascular diseases and reduce the risk of cancer. In cucumbers, phytonutrients known as cucurbitacins have anti-cancer effects, thus helping to reduce the risk of uterine, breast, ovarian and prostate cancers. Because of the presence of flavonoids such as fisetin and caffeic acid, eating it whole or juicing the vegetable helps a lot in avoiding the risk of cancer.
3. Promotes Healthy  weight: Since it cucumbers are rich in fiber, cucumber intake allows you to maintain a healthy weight, through adding them to your daily meal, such as salads or vegetable juices.
4. Promotes hair growth: Cucumber also allows your hair to be shiny and smoother, as it helps to strengthen the hair. Due to its richness in silicon and sulfur that prevents hair fall/loss and also promotes healthy hair, cucumber juice is extremely good for your hair. You should add the cucumber juice to your hair and massage it well and you can see a big improvement in your hair and scalp.
 5. Cucumbers Maintain Adequate Blood Pressure: Cucumbers are rich in fiber, magnesium, and potassium, which play an important role in maintaining a blood pressure that should not be too low or too high. Cucumber helps to relieve pressure in the arteries and keeps them hydrated as well. Cucumber intake can help you maintain the proper blood pressure, and it is also recommended for people with hypertension.  Cucumbers contain fiber and are low in calories, thereby helping to maintain a healthy blood pressure.
6. Cucumber is known to be light in the bowel, serves as a laxative and can be a treatment for chronic constipation.