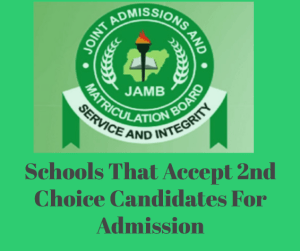 List Of Universities That Accept Second Choice in JAMB | 2nd Choice Schools
When applying for JAMB, candidates are usually required to select your first choice institution as well as your second choice institution.
This helps to increase the chances that each candidate has to be offered admission either by the first choice or second choice institution.
Jamb earlier ruled out the Selection of Two Public Universities as both first and second (2nd) choice during UTME registrations due to the reason that most universities or institutions don't accept Second choice candidates that apply to them.
It is now a good news that JAMB has enabled candidates to Select two Universities as First and Second Choice.
This means that candidates can now apply for State Universities or Federal Universities that Accepts Second Choice Candidates as second choice Institutions during registration.
So, all you basically need to do is select the school you want to use as your second choice and off you go. Well, it's Actually not that easy.
Because of the fact that not all schools accept 2nd choice, you will basically need to research for the list of schools that accept second choice so you can use it during your JAMB registration.
We have made it easy for you; we have checked all the universities and polytechnics and narrowed them down to only those that accept second choice.
READ ALSO: JAMB Change Of Course And Institution Form Is Out 2020/2021
Which Universities Can be Selected as Second Choice?
Though JAMB has made it possible for candidates to select Universities as 2nd choice, the List of universities that can be used as Second Choice is limited to the ones released by JAMB.
We have made the list of such schools to be chose in Jamb as Second choice and are below.
LIST OF FEDERAL UNIVERSITIES THAT ACCEPT SECOND CHOICE.
The List of Federal Universities that can be used in Second choice space are:
1. FEDERAL UNIVERSITY, OYE EKITI
2. FEDERAL UNIVERSITY DUTSE, JIGAWA STATE ,
3. FEDERAL UNIVERSITY BIRNIN KEBBI
4. FEDERAL UNIVERSITY DUTSENMA, KATSINA STATE
5. FEDERAL UNIVERSITY GASHUA, YOBE STATE.
6. FEDERAL UNIVERSITY GUSAU, ZAMFARA STATE.
7. FEDERAL UNIVERSITY LAFIA, NASARAWA STATE
8. FEDERAL UNIVERSITY LOKOJA.
9. FEDERAL UNIVERSITY KASHERE, GOMBE STATE.
10. FEDERAL UNIVERSITY NDIFU-ALIKE, EBONYI STATE.
11. FEDRAL UNIVERSITY OTUOKE, BAYELSA STATE.
12. FEDERAL UNIVERSITY WUKARI, TARABA STATE
13. 1. UNIVERSITY OF MAIDUGURI, BORNO
STATE UNIVERSITIES THAT CAN BE USED AS SECOND CHOICE.
The List of State Universities that can be used in Second choice
1. ABIA STATE UNIVERSITY, UTURU, ABIA
2. ADAMAWA STATE UNIVERSITY, MUBI, ADAMAWA
3. AKWA IBOM STATE UNIVERSITY, IKOT-AKPADEN AKWA-IBOM
4. ANAMBRA STATE UNIVERSITY, ULI ANAMBRA
5. ABUBAKAR TAFAWA BALEWA UNIVERSITY, BAUCHI BAUCHI
6. CROSS RIVERS UNIVERSITY OF TECHNOLOGY, CALABAR CROSS-RIVER
PRIVATE UNIVERSITIES THAT CAN BE PUT AS SECOND CHOICE.
The List of Private Universities that can be used in Second choice
1. GREGORY UNIVERSITY, UTURU, ABIA STATE ABIA
2. AMERICAN UNIVERSITY OF NIGERIA , YOLA ADAMAWA
3. MODIBO ADAMA UNIVERSITY OF TECHNOLOGY, YOLA ADAMAWA
4. OBONG UNIVERSITY, OBONG, NTAK AKWA-IBOM
5. RITMAN UNIVERSITY,IKOT-EKPENE,AKWA-IBOM STATE AKWA-IBOM
6. PAUL UNIVERSITY, AWKA ANAMBRA
7. TANSAIN UNIVERSITY, OBA, ANAMBRA STATE ANAMBRA
8. UNIVERSITY OF MKAR, GBOKO BENUE
9 NOVENA UNIVERSITY OGUME DELTA
10 WESTERN DELTA UNIVERSITY, OGHARA, DELTA STATE DELTA
11 EDWIN CLARK UNIVERSITY, KIAGBODO, DELTA STATE DELTA
Affiliated Colleges Of Education
1. FEDERAL COLLEGE OF EDUCATION, YOLA (AFFILIATED TO AHMADU BELLO UNIVERSITY, ZARIA.) ADAMAWA
2. ST-JOSEPH MAJOR SEMINARY , IKOT-EKPENE (AFFLIATED TO UNIVERSITY OF UYO, AKWA-IBOM STATE) AKWA-IBOM
3. FED COLLEGE OF EDUC. (TECH.) UMUNZE, AFFILIATED TO (NNAMDI AZIKIWE UNIVERSITY, AWKA) ANAMBRA
4 NWAFOR ORIZU COLLEGE OF EDUCATION, NSUGBE (AFFLIATED TO UNIVERSITY OF NIGERIA, NSUKKA, ENUGU STATE) ANAMBRA
5. COLLEGE OF EDUCATION, AZARE (AFFLIATED TO UNIVERSITY OF MAIDUGURI, BORNO STATE) BORNO
6. CATHOLIC INSTITUTION OF WEST AFRICA, PORT HARCOURT (AFFLIATED TO UNIVERSITY OF CALABAR, CROSS RIVER STATE) CROSS-RIVER
7. FEDERAL COLLEGE OF EDUCATION, OBUDU, CROSS RIVER STATE, (AFFILIATED TO UNIVERSITY OF CALABAR, CALABAR CROSS-RIVER
8. COLLEGE OF EDUCATION, AGBOR (AFFLIATED TO DELTA STATE UNIVERSITY, ABRAKA, DELTA STATE.) DELTA
9. COLLEGE OF EDUCATION, WARRI (AFFLIATED TO DELTA STATE UNIVERSITY, ABRAKA, DELTA) DELTA
10. FED COLLEGE OF EDUC. (TECH.), OMOKU, OMOKU , AFFILIATED TO (UNIVERSITY OF NIGERIA, NSUKKA, ENUGU STATE) DELTA
11. FEDERAL COLLEGE OF EDUCATION (TECHNICAL), ASABA (AFFILIATED TO UNIVERSITY OF BENIN, BENIN CITY) DELTA
12. FEDERAL COLLEGE OF EDUCATION (TECHNICAL), ASBA, (AFFILIATED TO FEDERAL UNIVERSITY OF TECHNOLOGY, MINNA) DELTA