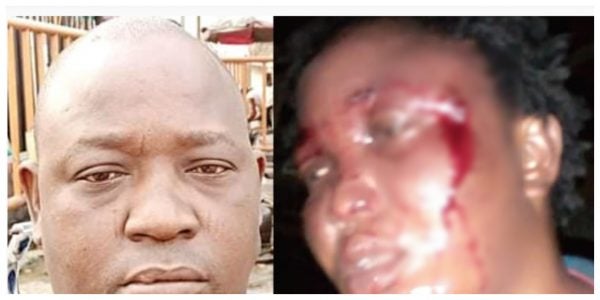 An Igbosere Magistrates' Court granted bail to a man named as Sulaiman Maiyegun, alias Afobaje, who was arrested for beating his wife and posting her on Facebook.
Maiyegun was arraigned on a two-count assault charge which caused injury and offensive report.
In her ruling, Magistrate Folake Oshin granted the defendant bail in the sum of N500, 000 with two sureties who must be a cleric and a family member to the defendant, NAN reports.
Maiyegun had posted to his Facebook page on May 5, "I beat my wife and I'm waiting for her police because I've been talking to a friend." The statement was attached to numerous photos of the battered woman, known as Mariam Gabriel, with blood oozing from her head.
Maiyegun's action attracted condemnation from many Nigerians on social media.
One of his friends, Dabio Michael, wrote,
"How I wish you knew the way she loves you. You wouldn't have beaten her this way. Sule, come back to your senses. What you did was bad and as a friend, I will tell you the truth. Go and apologise to her and delete this rubbish (post) from social media."
Another friend, Ahmed Abdulahi, wrote, "This is too bad, Sule."
Also, Bukola Ayinde wrote,
"Why did you do this, Sule? This is unfair. You shouldn't have done this to your wife. Delete these pictures from social media and beg her." Also, Michael Williams wrote, "You are my friend but it's obvious you can't change."
The viral offensive post gained traction online, and the Lagos State Domestic and Sexual Harassment Response Team became informed of it, calling out to the Commander, Area J Police Command, ACP Gbolahan Odugbemi, and catching the offender on Thursday.
At his arraignment before the Igbosere Magistrates' Court on Friday, Maiyegun pleaded not guilty to the two-count charge of assault occasioning harm and offensive publication.
According to the News Agency of Nigeria, the prosecutor, SP Shinaolu Adeoye, told the court that the defendant committed the offences on May 5 at 12:13pm at Maiyegun town, Jakande Estate, Eti-Osa Local Government Area of Lagos State.
The prosecutor said the defendant unlawfully assaulted his wife, the complainant, by beating her with his fist on her forehead.
"The defendant injured the victim on her forehead and posted an inciting and provoking publication about the incident on his Facebook page," Adeoye said.
SEE PHOTOS: