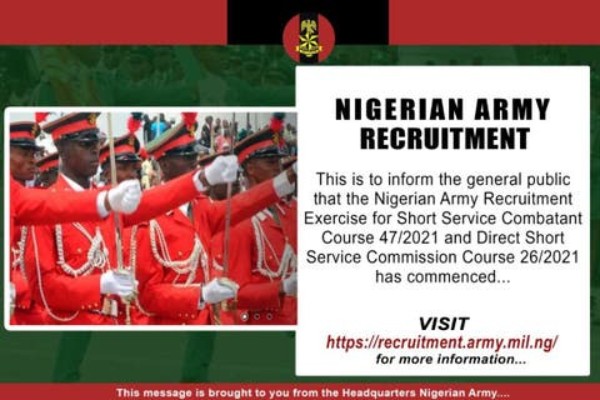 Nigerian Army Recruitment 2020/2021, the headquarters of the Nigerian Army made this known via its Twitter account, adding that the registration exercise starts immediately and free of charge.
Yesterday the Army opened it's online portal for the 2020 recruitment registration exercise for Direct Short Service Commission (DSSC26/202) and Short Service Combatant commission (SSC47/2021).
The Nigerian Army headquarters made this known via it's Twitter handle, adding that the registration exercise commences immediately and free of charge.
A tweet by the Army announcing the recruitment read;
"This is to inform the general public that the web portal for SSC47/2021 and DSSC26/2021 is now online and the registration will commence immediately
#OurMilitryIsCapable"
Who can apply for this job?
Applicants must be a Nigerian citizen by birth.
Height must be above 1.68m for male and 1.65m for female.
Applicants must be medically and physically fit.
Applicants must not have any criminal conviction(s) from a court of law in his or her history.
Applicants age must be between 23 and 27 by January 2021.
Applicant must have a valid birth certificate endorsed by the National Population Commission, Hospital or Local Government Council or valid declaration of age certificate.
Applicants must have at least first degree and not less than a Second Class Lower Division or HND with no less than a Lower Credit in arts, sciences or humanities from an accredited institution of learning.
Visit ===>> http://recruitment.army.mil.ng