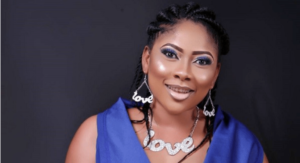 Actress Queeneth Agbor – I can handle a cheating partner but not a stingy partner, Queeneth Agbor, Curvy Nigerian actress, says she can deal with a cheating partner, but not with a stingy partner.
" The actress a microbiology graduate from the University of Calabar, said, "I can deal with a cheating guy, given he's cheating responsibly.'
He could cheat,  then make it up to me by spoiling me. Eventually, a man who cheats would get tired of doing so, the same way King Solomon got tired in the Bible.
Also read: Bobrisky Will Spend N532million On His 30th Birthday
Queeneth Agbor also made it known that she would stop making decisions in the heat of the moment, regarding  some of the behaviors she would love to drop in 2021.
"Decisions in the heat of the moment are one of the  habit I would love to drop in 2021. I will certainly put a stop to that and make choices with a lot of consideration."
And as to why she had not starred in as many movies as she used to, the actress said, "It is not intentional not to feature in movies."
I shot a couple of movies that are going to be out soon. I however  have a side venture,.'
Agbor also claimed that if she got married, and her husband asked for a DNA test on her kids, she would not feel offended.
If my husband  request for a DNA test, I'd encourage him to do it .He will however pay through his nose after the outcome is released. A man will only ask for a DNA test if there's no trust,' she said.