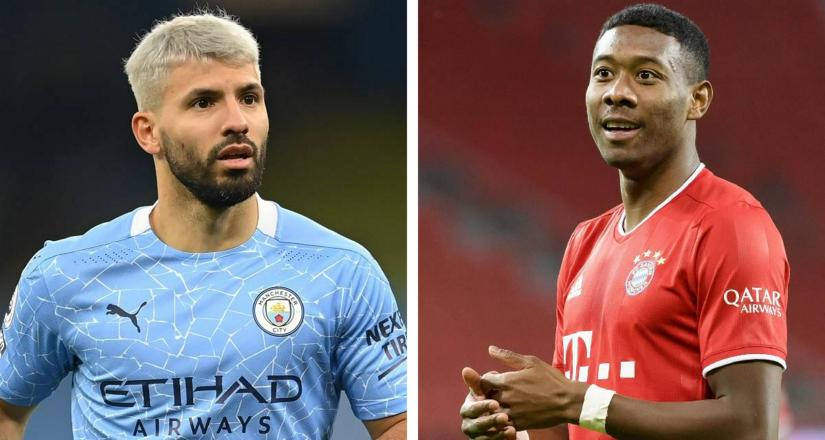 Barcelona wants Sergio Aguero and David Alaba for free, Barcelona hopes that after their contracts expire at Manchester City and Bayern Munich, respectively, they will land Sergio Aguero and David Alaba on free transfers this summer.
After 10 years that Barcelona have seen Aguero becoming the club's all-time leading goal scorer with 256 goals and win four Premier League titles in a glittering career, Aguero is set to leave the Etihad Stadium.
Nevertheless, injuries have since caught up with the 32-year-old and he has now gone a full year without scoring a Premier League goal at the Etihad.
According to Mundo Deportivo, Barcelona see the striker as the ideal No 9 replacement for Luis Suarez, who departed for Atletico Madrid in the summer, in providing a big name signing for supporters.
READ ALSO: Zinedine Zidane, Real Madrid Manager Tested Positive For Covid-19
Barcelona is in desperate financial struggles following the coronavirus outbreak, and the report claims they see Aguero as an ideal signing to act as a transitional striker ahead of a future bid for Inter Milan star Lautaro Martinez or Erling Haaland from Borussia Dortmund once the pandemic clears.
Before they landed Suarez from Liverpool, Aguero was once a priority for the Spanish giants in 2014, but the signing of the former Atletico Madrid hitman is often seen as a way to encourage Lionel Messi to remain at the club.
Alaba is another target whose contract expires in the summer and Barcelona are keen on his versatility given his ability to play at left back as well as provide cover in the centre of defence.
This season, the 28-year-old player was a regular for Bayern Munich, appearing 16 times in the Bundesliga, but his arrival at the Camp Nou could depend on Joan Laporta becoming the new president of the club.
Laporta has a strong friendship with Pini Zahavi, Alaba's agent, who seems to have angered Bayern Munich with his contract requests for Alaba, according to Mundo.