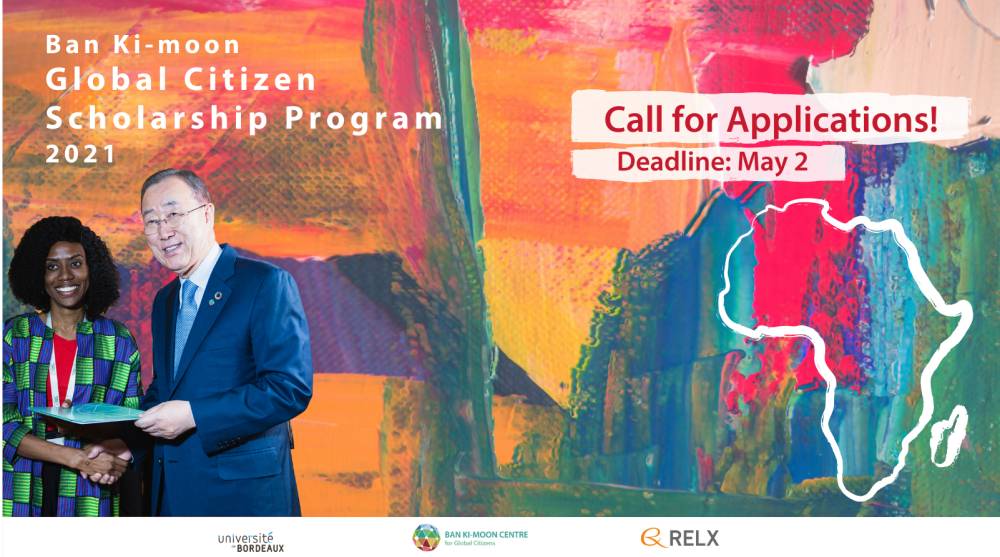 For young Africans, Ban Ki-moon global citizen Scholarship program 2021.
Ban Ki-moon Global Citizen Scholarship Program 2021 is calling for applications. The Global Citizen Scholarship Program empowers exceptional young people by facilitating their participation in international conferences as well as tailor-made, short-term academic training and supporting and mentoring them during the development of their own "SDG Micro-Project."
The scholarship includes the chance to attend renowned international fora, interact and network with high-level change-makers, access specialized educational seminars and training, and gain insights from expert mentors and workshops provided by the Centre.
In 2021, the Ban Ki-moon Centre for Global Citizens is granting 6 full scholarships to young African graduates and PhD candidates covering program costs and, if COVID-19 restrictions allow travel, accommodation, and a daily stipend for attendance at an in-person gathering.
Who Can Apply for Ban Ki-moon Global Citizen Scholarship Program
Open to all African youth regardless of race, ethnicity, gender identity, or sexual orientation;
Age group 20-35;
Applicants must have completed at least 1 year of a master's program, be working towards a PhD, or be within 2 years of graduation from a master's program or higher;
Applicants must demonstrate strong dedication to SDGs and the ideals of global citizenship;
Applicants must provide evidence that they may otherwise not have access to such an opportunity;
Applicants must provide proof of a minimum English level B2 (European Standards);
Further showcasing of scholars and selected projects.
Benefits of Ban Ki-moon Global Citizen Scholarship Program
Online summer school with the University of Bordeaux on "African Cities in 2030" (May 31 – June 4, 2021).
Virtual expert workshops on the SDGs, project management, fundraising, and more.
Participation at the virtual RELX Inspiration Day June 2021.
One-on-one mentoring by professors at the University of Bordeaux and high-level partners of the Ban Ki-moon Centre during the implementation of an individual SDG Micro-Project.
Possible virtual or in-person participation at the "Africa-France Summit on Sustainable Cities and Regions" in Montpellier, France (July 8 – 11, 2021).
Certificate of Achievement after the successful completion of the SDG Micro-Project, signed by Ban Ki-Moon and Heinz Fischer.
Alumni Network membership for scholars who successfully complete the program.
How to Apply for Ban Ki-moon Global Citizen Scholarship Program
Applicants must prepare the following documents:
CV
Scan of passport or other formal ID
Proof of academic titles and/or enrollment confirmation
Letter of motivation (max 500 words)

Why do you want to receive this scholarship?
Why do you want to attend the "Africa Cities in 2030" summer school with the University of Bordeaux?
What makes YOU a global citizen?
Why would you otherwise not have access to this opportunity?

SDG Micro-Project pitch (max 500 words)

Describe a project that you would like to implement for the SDGs in your community. It does not need to be a formal proposal; however, it should include a short description of a challenge you wish to address and a manageable project idea that you could implement with minimal financial resources. If you can already think of partners who you would like to work with (local NGOs, schools, companies, city councils etc.), list these. Should you be chosen for the scholarship, you will be able to adjust and revise the idea as you go through the program.
Send the documents to [email protected] by May 2, 2021.
If you think this post can be helpful to somebody else, please share it on Whatsapp, Twitter, Facebook. There are buttons below for this (easy to use too)!