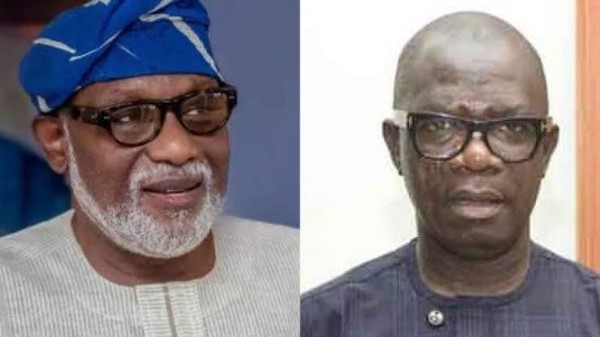 Governor Akeredolu, My Deputy Betray Me Despite Paying Him N13m Monthly.
Ondo State Governor Rotimi Akeredolu opened up about his frosty relationship with his deputy, Agboola Ajayi, who pressured the latter to leave the All Progressive Congress ( APC) for the Democratic People's Party (PDP) in order to contest the state's upcoming governorship election.
KanyiDailh recalls that Ajayi later defected to the Zenith Labour Party (ZLP) after failing to secure the PDP ticket for the October 10 governorship election in Ondo.
Speaking while being featured on a Radio personality programme in Akure, Governor Akeredolu said he gave his deputy "wide room to operate but he later betrayed me by wanting to unseat me despite making him the highest paid deputy governor in the country.
"l ensured that Ajayi was well paid in order to make him comfortable in office despite all warnings from different quarters that he should not entrust Ajayi with power".
"Agboola (Ajayi) does not want to wait for his time. I made him comfortable, I asked him to represent me in so many places but some people were warning me, I said they should leave him alone.
"No deputy governor has collected what he was collecting in the history of the state. I gave him N13million monthly, his predecessors did not collect as much as that.
"No deputy governor collects as much as that in Nigeria. I gave him enough room to operate yet he betrayed me ."
Nevertheless, the governor said that he was prepared to forgive all his critics, adding that, as a Christian, he would not insult anybody.