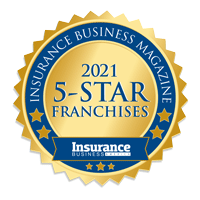 Top Insurance Franchise Groups
The results are in, and nine businesses have been awarded market leaders as one of Insurance Business America's 5-Star Insurance Franchise Groups. IBA's research team conducted one-on-one interviews with agency owners over a 15-week period to obtain a clear insight of what they value and appreciate in the franchises they are a part of in order to find the greatest franchises in the business.
Participants were asked to rank their franchise's home office in nine categories, including marketing, general assistance, product range, entrance price, fees and charges, training, technology, financing possibilities, and commission rates.
To kick off the process, franchise home offices were asked to put forward a nomination, describing how their franchise model stands out against competitors.
IBA then reached out to agency owners, asking them to rate their overall satisfaction with the franchises they deal with.
Franchise groups that rated 80% and over were named 5-Star Award winners for their excellent service and performance.
These results are valuable not only to the winning franchise groups, but also to the industry as a whole. The 5-Star Awards provide added exposure to companies that go above and beyond to give their clients top-of-the-line service.
Companies utilize these awards to obtain a better grasp of how the market perceives their products and to learn which items are successful in the industry's eyes.
These 5-Star Awards give agents who want to start or build their business with the help of a franchise partner a leg up when it comes to picking which franchise to work with.
5-Star Insurance Franchise Groups
America One
Brightway Insurance
Estrella Insurance
Goosehead Insurance
Insurance Lounge
John Galt Insurance
State Farm
Univista Insurance
Veronica's Insurance
We Insure Group
Above mentioned are the Top Insurance Franchise Groups in America business group.