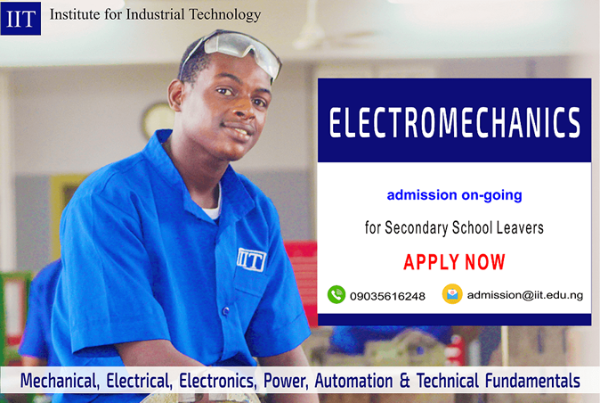 The IIT Electromechanics Program is an accredited course designed to integrate secondary school leavers into the different work environments of the manufacturing or engineering services. Graduates of this program are mid-level technicians who are equipped with the requisite professional industrial skills to operate productively within the industrial workspace. This program improves the range of your employability.
Students of this programme will be equipped with key technical knowledge, troubleshooting skills, installation and commissioning skills, maintenance skills, fabrication skills, technical ICT skills, work values and personal leadership skills needed to man industrial technologies in industrial automation, electrical, electronics, and mechanical trades.
At the completion of the in-school training, students are posted to manufacturing or engineering services work environments (IIT partner institutions) to under-go a mandatory industrial internship which forms part of their course work.
Who can Apply?  Secondary school leavers within the ages of 16 to 21.
Duration? 3 years (2 years in school, 1 year in-company)
This programme incorporates online and in-school learning.