Updates on reopening of Schools in nigeria: Have you been wondering when schools will resume? The page belongs to you! We'll share all the latest news about Nigerian school resume.
when will schools resume in Nigeria (reopening of Schools)
1. Tertiary institutions will reopen very soon — Minister
The state education minister, Hon. On Saturday, Chukwuemeka Nwajiuba told Nigerian students languishing at their homes that tertiary institutions will reopen very soon across the country.
Though he did not give a specific date for the re-opening, he said he would articulate the situation report from the National Universities Commission, NUC, and other regulatory bodies of various tertiary institutions and present to the Presidential Task Force, PTF on COVID-19 for evaluation.
2. FG has no plans for re-opening of universities – ASUU
The Academic Staff Union of Universities, ASUU has maintained it will not suspend the ongoing strike action.
National President of ASUU, Professor Biodun Ogunyemi said this during a stakeholder's meeting at the Union's Secretariat at the University of Port Harcourt, Rivers State.
Professor Ogunyemi said the federal government has continually failed to fulfill its Memorandum of Action agreed in 2019, insisting that the federal government may trigger another round of crisis should it force ASUU members into the IPPIS Scheme.
He noted that unlike other sectors, nothing has been put in place by the federal government in accordance with the coronavirus health protocols for reopening of schools adding that, "Students' hostels, lecture rooms and laboratories do not meet standards of schools in other countries", which he said is part of the reasons for the strike.
You can read up the full details here.
That's the two latest updates we have for now. As soon as there's any latest update on when school will resume, trust that we will update this page.
Meanwhile which of the updates got you smilling? That of ASUU or Minister of Education? Use the comment box to share your opinion with us, we love reading them.
Remember: There's still no official announcement from either Minister of Education or PTF that schools will resume 7th September. Ignore fake news. We will never update this page with a fake resumption date. We are closely monitoring the resumption date trend, as soon as there's vital information, we will immediately update this page.
Please don't forget to share this page with your friends. It means a lot to us and your friends as well.
Students Protest Closure Of Tertiary Institutions
Students under the aegis of the National Association of Nigerian Students are demanding the reopening of Tertiary Institutions.
Taking to Abuja, the nation's capital on Wednesday, the students carried placards, registering their displeasure over the continued closure of schools.
They argued that if the government can reopen major markets, some relaxation centres, religious centres, schools also should be reopened so as not to truncate the future of the Nigerian students.
Few photos from the protest: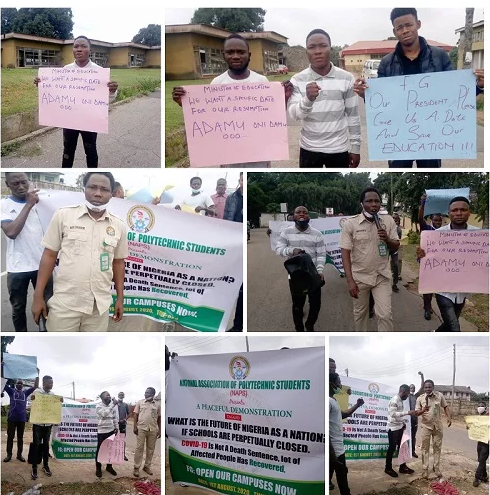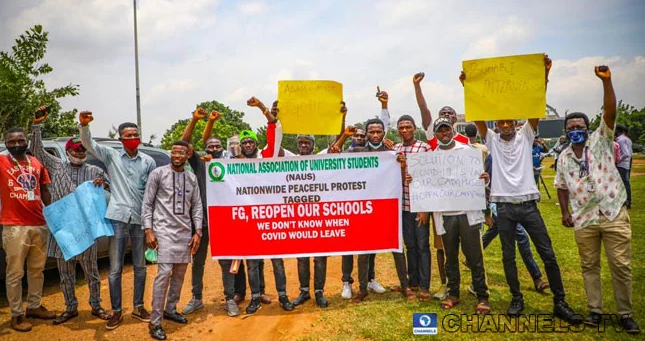 As a result of the rally, there are speculations that next week the education minister will declare an exact date for all schools to reopen. But that we have yet to prove. We'll keep you posted once we're finished.
FG replies NANS: We'll reopen varsities when it's safe to do so
The Federal Government has assured the National Association of Nigerian Students (NANS), that all schools in the country, including tertiary institutions, would reopened only when it is safe to do so.
The Chairman of Presidential Task Force (PTF) on COVID-19 pandemic and the Secretary to the Government of the Federation, Boss Mustapha, gave this assurance Monday at the briefing of the Task Force.
NANS had two weeks ago, noted that though the pandemic hit many nations across the globe, Nigeria should take appropriate steps to remedy the situation and let the society run as seamless as possible.
He said: "Today, the Senior Secondary School Certificate (SSCE) examinations commenced all over the country, like in other West African States, and the PTF is happy to note the high level of compliance with the protocols for the re-opening of exit classes. It is in this light that we appreciate the call by the National Association of Nigerian Students (NANS) for the reopening of tertiary institutions. As a listening government, we wish to state that education is topmost on the priority list and the reopening of our institutions remain critical, within set safety parameters."
That's all! We love reading your opinion/views and from recent comments on this page, most students are now working and want school to resume next year.
Are you working and want school to resume?
Do you still want school to resume this year?
Chukwuemeka Odumegwu Ojukwu University (COOU) formerly called Anambra State University (ANSU) seems to be the first Government-owned University to announce resumption date for students.
According to the school management, all COOU fresh students are to resume August 13th 2020 while their first semester exams will commence 20th August, 2020.
COOU calling students to resume school gives us hope that Tertiary Institution students will resume this year.
Talking about that, please note that there's no official notice that schools will resume September 7th. Disregard any news stating otherwise.
We are monitoring the updates on school resumption and will update this page whenever there's news.
Lately most students have been asking us if it is true that all schools (tertiary institutions) in Nigeria will resume in September 2020?
ANS; THERE'S NO OFFICIAL ANNOUNCEMENT SAYING SCHOOLS WILL RESUME in September.
However, there are strong indications that schools MIGHT resume September or maybe October.
Why do we Todaysloaded think so?
National Universities Commission (NUC) directed all VC's to ascertain Level of Preparedness for Safe Reopening of Varsities. Some schools like UNILORIN have indicated that they are ready to resume.
Over 10,000 COVID-19 patients were discharged few days ago. This seems to be a relief.
In a bid to end the ongoing strike, ASUU said they are ready to resume negotiations with FG.
Just to be clear again; we just assumed that schools might resume September or October 2020. There's actually no official announcement yet.
We really look forward to such announcement?
How about you? What do you think? DO you also really think schools will resume September/October? Or Are you working already and don't want to go back to school this year?
NUC Directs Vice Chancellors to Urgently Ascertain Level of Preparedness for Safe Reopening of Varsities
The National Universities Commission (NUC) has directed all Vice Chancellors (VC) to ascertain their level of preparedness for safe reopening of Universities.
This was disclosed in a letter signed by NUC Executive Secretary, Chris J. Maiyaki.
The letter partly reads:
"Vice-Chancellors of Nigerian Universities will please recall that, as part of the measures to contain and prevent the spread of the Coronavirus (COVID-19), the Federal Govemment, through the Federal Ministry of Education, ordered the immediate closure of all schools, including Universities on 23 March, 2020.
"All schools have since remained closed, until the recent decision to allow only Exiting Classes to resume to enable final year students to participate in the 2020 West African Senior School Certificate Examination including other examinations, to be conducted by NECO, NABTEB and NBAIS.
"As Vice-Chancellors are already aware, following the gradual easing of the restrictions as part of the management of COVID-19, there have been several stakeholder consultations as well as meetings with the Honourable Minister of Education with the attendant clamor by concerned citizens for the reopening of Higher Education Institutions (HEIS) and resumption of academic activities.
In the midst of all these, the Federal Ministry of Education had since developed and circulated guidelines for schools and learning facilities, to provide the required support for the safe reopening of schools and resumption of academic activities.
Cognisant however, of the peculiar circumstances and the distinct nature of the University sub-Sector, the National Universities Commission has developed the attached template, to generate data/information on the preparedness of Universities for possible reopening and resumption of academic activities amid the COVID-19 Pandemic.
"The template also provides for data on physical facilities such as infrastructure for Digital Delivery, Lecture Theatres, Halls and Classrooms, Laboratories/Workshops/Studios; and students accommodation.
"The University is also required to indicate the measures/strategies that have been put in place preparatory to a safe and hitch-free reopening of institutions, in readiness for the commencement of full academic activities.
"Such information when generated across the entire sub-sector, will provide the commission with a full picture of the challenges as well as guide policy options by Government.
The image below is a copy of the letter directed to VCs.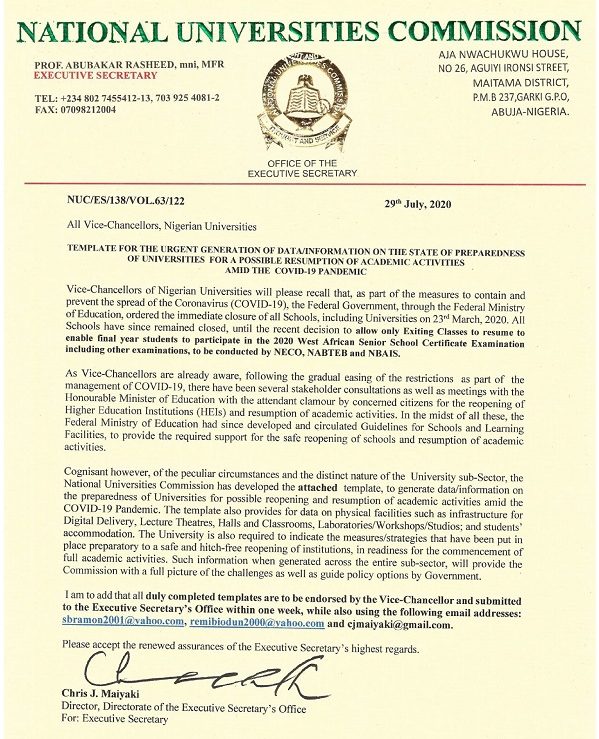 To us, this is a good move. This again indicates that all schools will resume soon (reopening of Schools). Share you thoughts with us in the COMMENT SECTION. And Please share this page.
Thank you for reading this article and we really appreciate it. If you did, please share this page with your friends through the Share buttons below, we hope you enjoyed it. Sharing is all about caring.
reopening of Schools