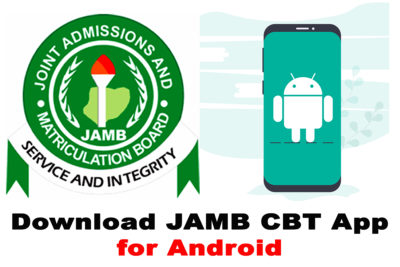 Download 2021 JAMB CBT Practice Mobile App – Free Download
The latest 2021 UTME Ready version of the Myschool JAMB CBT practice mobile app for Android devices, which includes over 60,000 offline CBT questions, responses and explanations, including potential questions that can be asked from the new JAMB novel, Sweet Sixteen, can now be downloaded for free. It is expected that the 2021 UTME will begin sometime in March. No time left!
JAMB CBT 2019 Questions are now available from JAMB and are already included in this CBT app for free, you can also easily update the 2020 questions into the app, for free, once released by JAMB. It is best you start studying questions right now, so you can comfortably cover all questions before your exam.
No more renewal fees, weekly or monthly. In order to accessing all previous questions from JAMB, WAEC, NECO and NABTEB (from 1978 to 2019), we will also provide you with 1 year of Free SMS notifications for your preferred Main School, as described in your profile. This is simply the best technique app on your phone you can ever get.
If you were looking for the software that works on Computer Systems and Laptops, then visit the page; Latest JAMB CBT Practice Software – Free Download
This easy-to-use app is a must-have for any candidate intending to write the 2021 JAMB CBT UTME, WAEC, NECO or NABTEB, as it provides you with all the tools necessary to comfortably pass your exams.
We will also keep you updated about JAMB, your School of Choice and other important information you need to know. It's all free!
Schools & Institutions, CBT Centres, Business Cafes and Smart Individuals can already see how to make money by training their students, marketing, selling and offering support by requesting a bulk purchase at a discount, or becoming an Agent or Reseller for this product.
ALSO READ: NIN Application Guidelines and Requirements for Students
Download Links
There are two options for you to download:
1. You can download the latest version 7.5.1 directly from the Google Play Store by searching for Myschool JAMB App or by visiting this link: https://play.google.com/store/apps/details?id=com.myschool.cbt
2. If the above link does not work, You can also download and install any of the raw APK that works for you by using the following links;
Here's what's new in the 2021 Version of the app
• 2021 UTME Ready
• 2019 CBT Questions included.
• Official JAMB Novel summary included.
• Easily get latest news updates from all schools for free.
• Activate Once, Use it for Life of your device – Very Cheap!
• Access, offline, over 60,000 past questions and their solutions for JAMB, Post-UTME, WAEC, NECO and NABTEB exams, in an organized manner.
• Access free online video lessons
• Access all past questions and their solutions without any Internet Connection, even in remote and rural areas.
• Study Past Question Year by Year – All years included
• WAEC, WASSCE Theory & Objectives now included
• Find Past Answers Included
• Carry all past question & answer booklets for all subjects on your mobile phone.
• Contains Official JAMB Calculator
• Adequately prepares you for Post-UTME, whether Paper or CBT.
• Practice Exact Post-UTME CBT Environment using custom settings.
• Ask an Academic or School Question, and have a teacher, user, admin or institutions answer you within minutes.
• Easily send message to, or receive messages from Myschool Friends
• Enables you to search for a particular question keyword in any subject and get the answer and explanations. Like a "google" for past questions.
• Gives you an idea of what JAMB CBT environment feels like.
• Comes with flexible and reliable 1 year of SMS alerts for your chosen school as stated in your profile.
• Comes with a FREE copy of Admission 101 – A guide and an eye-opener to all the pitfalls you should avoid right from filling your JAMB form, until you get into school and finally matriculate.
• Prepares you for JAMB CBT and also Post-UTME exams in your school of choice.
• View with the Latest JAMB Brochure to check course requirements for free
• View with the Latest JAMB Syllabus for reading requirements for free
• Avoid expensive admission sorting by encouraging learning.
With this Myschool App and constant practise, you are sure of scoring 290+ in your JAMB CBT Exams.
Download Links
There are two options for you to download:
1. You can download the latest version 7.5.1 directly from the Google Play Store by searching for Myschool WAEC App or by visiting this link: https://play.google.com/store/apps/details?id=com.myschool.cbt
2. If the above link does not work, You can also download and install any of the raw APK that works for you by using the following links;
Download 2021 JAMB CBT Practice Mobile App Below: